| | |
| --- | --- |
| Posted by grantma@mcmaster.ca on July 2, 2013 at 1:50 PM | |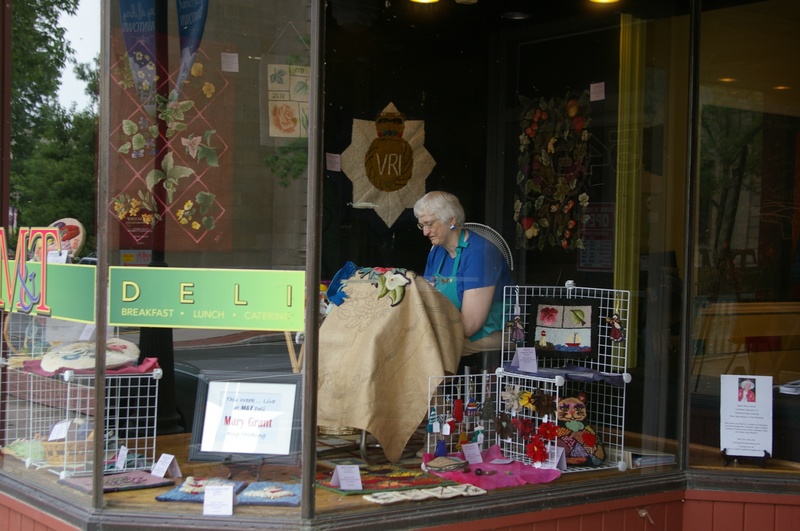 It isn't exactly a mat challenge, but it is indeed a challenge. From Monday to Saturday this week, I am the artist in the window at the M&T Deli in downtown Fredericton. I mapped out the floor space in my living room with painter's tape and arranged my shelves and items, leaving sufficient room for my frame, cutter table and chair. I am hooking on a fine cut Waldoboro style mat which has had people stop and look. So far I've had a chat with a rug hooker who is visiting from Lakefield Ont., and a young girl has expressed interest in a Beginner Course. Several people have stopped to look through the window, and some seem embarrassed if I happen to look up from my hooking. Negatives; only a stiff neck at the end of the 10 am to 2 pm stretch. That was cured with exercises. The deli has an artist in the window each week, and has a lot of art work for sale in the deli. This is the first time they have had a rug hooker. I am getting more courageous and definitely venturing outside of my comfort zone. Isn't that the aim of a challenge? If you're in Fredericton, come by and visit.
Aug 1, 2013
I've just finished my 4th day of 6. Yesterday I did some daisy-like flowers and today, I turned my attention to the scrolls. I am doing quite a bit of explaining and trying to assure people that a Beginner Course does not start off with the finest of cuts, nor sculpting. I did get a chuckle today when a young man and his wife stopped by and he wanted to stay and look, but his wife was most disinterested. Most times it is the man trying to get the woman to move along. Although I have prices on the mats, I have not sold anything. I'm not surprised and it is a good public education to see the slow but steady progress. It does not move as fast as oil painting does. All in all, I'm having a ball and will definitely take another turn in the window.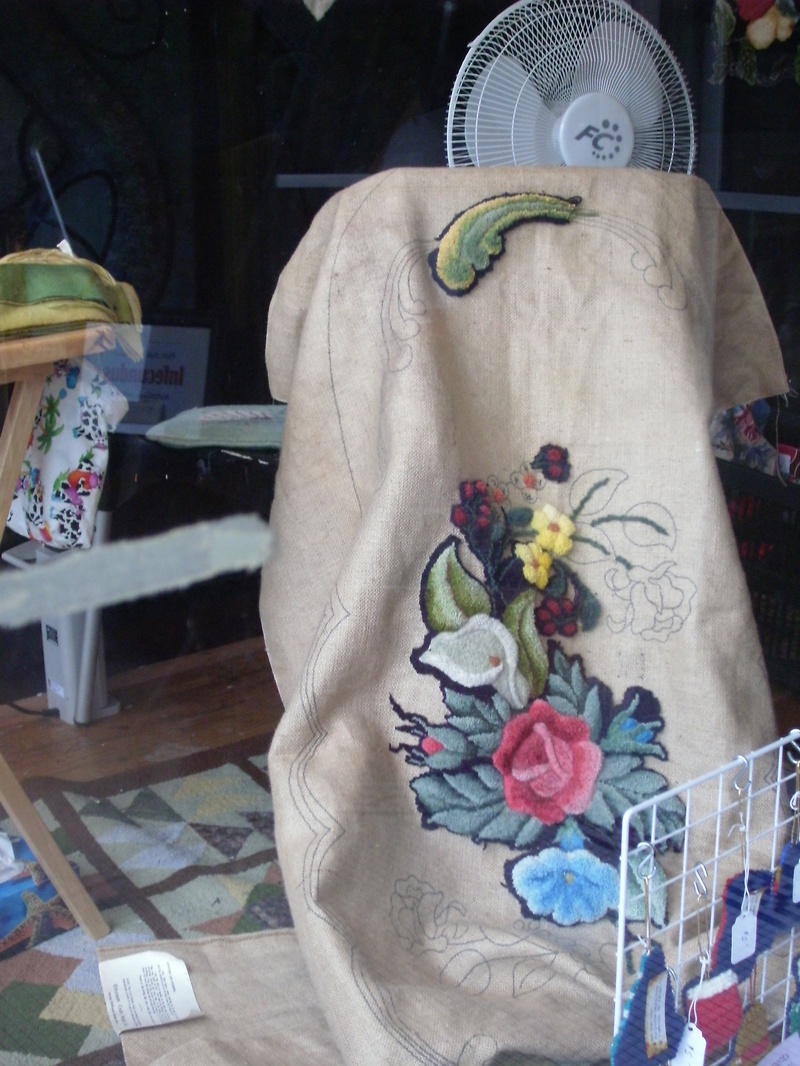 Comments are disabled.